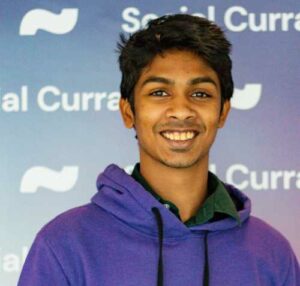 When our guest, Ashwath Narayanan, was 22, he launched Social Currant, a creative agency that is helping nonprofits and issue organizations use social media to reach audiences more effectively. By contrast, when co-host Eric was 22, he was working as a production assistant on low budget horror movies. So there's that.
Ashwath and his team of six fulltime staffers are working TikTok and Instagram influencers to encourage young people to drive social movements and inspire political campaigns. In his conversation with Eric, he spoke about how Social Currant uses really sophisticated tools to create and test messages and score huge victories in campaigns that are providing young people with a powerful voice and legitimate influence with decision makers on issues like the child tax credit, health, and many more.
Eric told Kirk that his conversation with Ashwath wasn't just one of the most interesting conversations he's had on the show, but in his life.
If you want learn about how to run a great strategy to reach young people, or if you want to feel better about the kind of talent that is stepping up to make the world better, you really, really, really shouldn't miss this episode.
You may have noticed, also, that we have a brand-spanking-new LinkedIn page! Please give us a follow and use it to learn more about our guests, contact us with questions or feedback, and connect with other listeners. Oh, and please tell your friends and rate us on whatever podcast platform you use. It really matters!
Podcast: Play in new window | Download