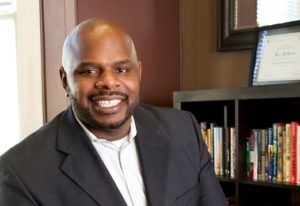 After spending a number of years in Oakland as a pastor, Ben McBride decided to move his family into a part of Oakland that was known for its challenges in order to better understand the lives of the people he hoped to serve. What happened next, as Ben tells Eric in our latest episode of Let's Hear It, is not just great storytelling, it's what makes Ben such a powerful AND delightful advocate for social justice. (We won't give away the ending, but it's a GREAT story.)
Ben is now the co-director of PICO California, a grassroots organization that helps people of faith to build power to reshape their lives and their communities. He has been addressing the challenges of race and belonging for over a decade, and he sat down with Eric to have the kind of conversation that many people find difficult, if not impossible. If you care about these issues, we think you'll love this episode.
By the way, here are a few links to items we referenced in the episode:
Kirsten Gillibrand's comments in the Democratic debate about while privilege.
Jennifer Eberhardt's new book, Biased.