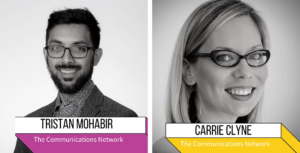 We couldn't resist – ComNet 19 is next week and we're so excited that we're bringing you a bonus edition of Let's Hear It!
Eric spoke with two of the staff from the Communications Network who are helping to make it all happen this year – Carrie Clyne, Deputy Director of Events and Community, and Tristan Mohabir, who is Director of Operations and Editorial.
Carrie and Tristan talk about how they are helping everyone make connections and make the most out of this year's ComNet – from first-timers like Carrie to seventeenth-timers like Eric. If you're coming this year, this show is a great primer on how to make the most out of the conference. If you were one of the many who waited too long only to see the conference sell out yet again, Tristan and Carrie will inspire you to make sure you don't miss out next time!