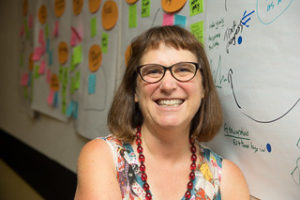 The re- re- re-invention of Beth Kanter.  
Beth Kanter became a nonprofit social media phenomenon because she used a new technology – blogging – to take and share notes about her work. She became an expert on what makes a healthy workplace because she wasn't feeling 100% and decided to write a book about how feeling good contributes to better functioning organizations. She was scared by math, so she wrote a book about how to measure results to slay that dragon and help others learn. Some people play Angry Birds on their phone in their spare time, and some people write books.  
Let's face it, Beth puts most of the rest of us to shame. It is no wonder that she is one of the most sought-after speakers, trainers, and authors on non-profit effectiveness anywhere.   
Beth talks with Kirk (yes, Kirk!) about the fascinating contours of her career, the important steps that organizations need to take in order to thrive, and the seven stages of grief in measuring effectiveness.  
Join us for this terrific conversation with one of the most colorful and interesting leaders of our field.