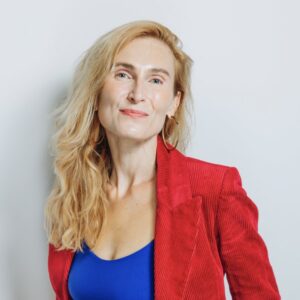 As the new president of the groundbreaking consulting firm Spitfire Strategies, Jen Carnig, who succeeds the legendary Kristen Grimm, might feel a little like whoever takes Megan Rapinoe's place. It might seem a little daunting and very hard on your hamstrings, but think of the possibilities! Jen may have big shoes to fill, but she's obviously ready to get busy.
A champion strategist in the areas of advocating for police accountability, community safety, human rights, and exposing the perils of artificial intelligence, Jen has big plans for Spitfire. In addition to her impressive resume, she clearly has the people skills for the job. She is uncommonly kind, thoughtful, and deeply committed, and Jen chats with Eric about the power of listening, how communications is really about relationships, and how hard Spitfire works so that its clients can succeed in their work. Please join her and Eric as they go deep on how to use communications for good.
You may have noticed, also, that we have a brand-spanking-new LinkedIn page! Please give us a follow and use it to learn more about our guests, contact us with questions or feedback, and connect with other listeners. Oh, and please tell your friends and rate us on whatever podcast platform you use. It really matters!
Podcast: Play in new window | Download