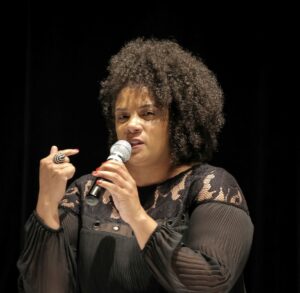 Precious Stroud is a Let's Hear It guest like no other. With a career that unites communication, higher education, and storytelling, she has created spaces where there weren't spaces before and asked questions few have thought to ask. We're very lucky to have her on the show.
Precious's CV, like so many remarkable guests we've had on the podcast, is a doozy. She founded PJS Consultants to provide much-needed services to do-gooding organizations. Her work on Love Action Reaction focuses on community wellbeing and COVID-19 safety, and, just because she can, she also founded the BlackFemaleProject, which lifts up, shares, and reacts to Black female voices and stories in the industry.
This was a great conversation that will help you examine the stories of others and how you choose to tell them. Don't miss out on this episode, please and thank you.
Podcast: Play in new window | Download