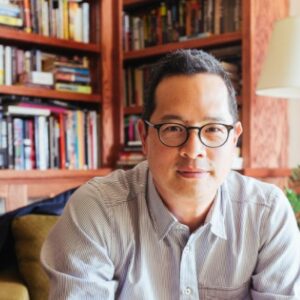 Jeff Chang has such a special view of race and culture in America that it's almost impossible to do him justice. He draws on his Hawaiian/Chinese roots and his background as a hip hop DJ and indie label founder to help us better understand culture, politics, the arts, and music.
Jeff was formerly the Vice President of Narrative, Arts, and Culture at Race Forward. He now serves as a Senior Advisor and leads the Butterfly Lab for Immigrant Narrative Strategy.  Jeff also served as the Executive Director of the Institute for Diversity in the Arts at Stanford University.
He has written for The Guardian, Slate, The Nation, the New York Times, the San Francisco Chronicle, The Los Angeles Review of Books, The Believer, Foreign Policy, N+1, Mother Jones, Salon, and Buzzfeed, and is the author of three really terrific books: Can't Stop Won't Stop: A History of the Hip-Hop Generation, Who We Be: The Colorization of America, and We Gon' Be Alright: Notes on Race and Resegregation.
Jeff and Eric discuss the political voice of hip hop, the Chris Rock/Will Smith Oscars moment, what it means to be an American, and a lot more. Tune in and listen to Jeff walk on wings!
Podcast: Play in new window | Download