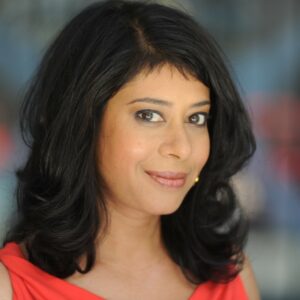 It's not easy to describe a guest as dynamic as Rinku Sen, but we'll give it a shot. Rinku is the executive director of Narrative Initiative, co-president of the Women's March Board, and author of two incredible books. As a political strategist, she has worked with the ACLU and PolicyLink, and her work on the "Drop the I Word" campaign has revolutionized the way media outlets talk about immigrants. As you can imagine, having Rinku on Let's Hear It is a treat.
In this exceptionally fun and interesting conversation, Rinku talks about her experience in journalism school, the history behind the term "systemic racism," and how to ask the right questions to get the most useful answers. We're aware that we say this every time, but it truly is not a conversation to miss.
In sadder news, this episode marks the end of the intrepid Maggie Brown's tenure as our producer and audio editor. Let's Hear It might not be the same without them, but we're so thrilled about this new chapter of their life as they move to Japan to teach English. Give it up for Maggie!
P.S. This does mean we're in the market for a new audio editor! If you know someone who knows someone who may be interested, don't hesitate to let us know.
Podcast: Play in new window | Download