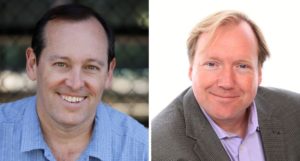 Thank you so much for listening to Let's Hear It. It's been a wonderful year, and we're so excited to kick off our second season.
In this special episode, Eric and Kirk sit down to talk about their favorite Let's Hear It moments in 2019, what they've learned hosting and recording, and what they're looking forward to in this next year of podcasting. If you've ever had any questions about the podcast process, or just like hearing Eric and Kirk banter like two old biddies from the Upper West Side, this fireside-ish chat is worth the listen.
Thanks again for listening!