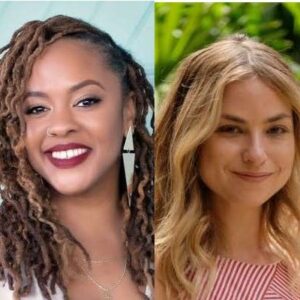 If you aren't at the table, you're on the menu, Shanelle Matthews and Annie Neimand remind us. In their new report, Broke: How the Nonprofit and Philanthropic Sectors Are Talking About Poverty—And How We Can Do Better, they note, "The stories we're currently told about how the rich got rich, why the poor stay poor, and why people can't "move up" place the blame on individuals instead of systems. This creates a vast network of oppression, propping up business as usual and allowing the rich to remain rich, while others suffer."
Shanelle and Annie resolved to provide us with the tools we need to tell more accurate and liberating stories about poverty and wealth. This project was a collaboration between The Radical Communicators Network, the Center for Public Interest Communications, and the creative design agency Milli, and funded by the Bill and Melinda Gates Foundation.
Shanelle is the Communications Director for the Movement for Black Lives, the founder of the Radical Communicators Network, and our first repeat guest! She was joined by Annie Neimand of Third Sector, who at the time was the Research Director at the Center for Public Interest Communications at the university of Florida in Gainesville and is the first relative of a previous guest (her uncle Rich) to appear on the show.
Shanelle and Annie had a great conversation with Eric about the research project they designed and their terrific new resource to advance new narratives about poverty and wealth.
Podcast: Play in new window | Download