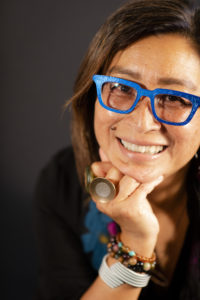 Villy Wang's mother wanted her to be a corporate lawyer. Raised by a single mother in public housing in New York, she was supposed to be a hard-charging, successful professional – a leader in her field. And she certainly is, but what she created is not quite what her mother had in mind.
Villy is the Founder, President, and CEO of BAYCAT, a non-profit organization that takes youth development and education, media production, marketing and advertising, social entrepreneurship, job training, economic and community development, arts, music and urban culture, and throws it in a blender.
What comes out of that extraordinary mix is one of the most interesting, exciting ways to work with young people who deserve a chance to soar, as well as a company that produces media for a wide range of organizations and institutions.
Oh, and Villy (who, we are proud to say, is an avid listener of our show) is a hoot – she and Eric sat down at BAYCAT's studios in San Francisco for a lively whirlwind of a conversation. Don't miss this one.